There is nothing to display at this time
Mount Hope Branch - Filming in the Area 
From February 6 - 10, filming will take place near the area of the branch. Please advise that loud sound effects may be heard throughout this time. A large volume of film equipment and vehicles will be present, however, Member parking will still be available.
Publish Date:
Thursday, February 2, 2023 - 9:45am
Brown / Hendrie Album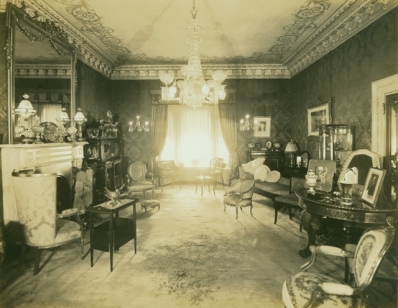 After the death of Mrs. William Hendrie in 1975, her heirs sold the family home Gateside, on Aberdeen Avenue, and offered to Local History & Archives many papers, journals, scrapbooks, etc. which had been stored in the attics.
The Hendries were prominent in Hamilton from the 1850s and Mrs. Hendrie's father, Adam Brown (1826-1926) had been a Member of Parliament, Hamilton's Postmaster, a businessman, churchman, active in many charitable organizations and a promoter of all things Canadian. The correspondence covers the years from the late 1850's to 1924. The earlier letters are mostly between members of the Brown and Kough families, but with Lily Brown's marriage to William Hendrie in 1901, the Hendrie family came to play a larger part.
In terms of photographs, this collection contains a series of exterior and interior shots of the home allowing us a personal glimpse into the lifestyle of one of Hamilton's more prominent families. The correspondence and journal give a remarkable picture of life in Hamilton over a span of nearly 75 years, and an equally remarkable picture of a Victorian family as it evolved through the First World War and its aftermath.