Central Library Notice
On April 13, 2021 HPL was notified that a person working at Central Library tested positive for COVID-19. They were last on site on April 8.
The person was wearing appropriate personal protective equipment and maintained physical distancing. Central has been cleaned thoroughly multiple times since April 8.
Please contact Public Health or your healthcare professional if you experience symptoms. We wish them a quick and full recovery. Please continue to monitor yourself for symptoms and stay home when sick.
HPL will issue updates as directed by Hamilton Public Health.
Publish Date:
Tuesday, April 13, 2021 - 12:15pm
HPL Catalogue New Look
A new look is coming to HPL's catalogue on Tuesday April 20. Explore and enjoy larger book cover images, simpler tools, easier navigation and other design improvements.
Publish Date:
Tuesday, April 13, 2021 - 12:00pm
Brown / Hendrie Album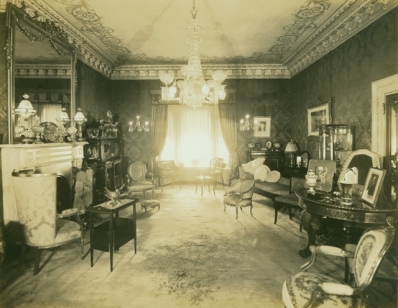 After the death of Mrs. William Hendrie in 1975, her heirs sold the family home Gateside, on Aberdeen Avenue, and offered to Local History & Archives many papers, journals, scrapbooks, etc. which had been stored in the attics.
The Hendries were prominent in Hamilton from the 1850s and Mrs. Hendrie's father, Adam Brown (1826-1926) had been a Member of Parliament, Hamilton's Postmaster, a businessman, churchman, active in many charitable organizations and a promoter of all things Canadian. The correspondence covers the years from the late 1850's to 1924. The earlier letters are mostly between members of the Brown and Kough families, but with Lily Brown's marriage to William Hendrie in 1901, the Hendrie family came to play a larger part.
In terms of photographs, this collection contains a series of exterior and interior shots of the home allowing us a personal glimpse into the lifestyle of one of Hamilton's more prominent families. The correspondence and journal give a remarkable picture of life in Hamilton over a span of nearly 75 years, and an equally remarkable picture of a Victorian family as it evolved through the First World War and its aftermath.