There is nothing to display at this time
Mount Hope Branch Public Washroom Out of Order
The Mount Hope Branch Public Washroom is out of order. We apologize for the inconvenience.
Publish Date:
Friday, May 13, 2022 - 2:15pm
Public Printing/Photocopying on the 3rd Floor of Central Not Working.
Please use the 1st floor or 2nd floor Printers
Publish Date:
Friday, May 13, 2022 - 11:30am
Rymal Road East Construction near Turner Park Branch
Starting Monday May 9, construction starts on Rymal Road East between Massena Drive and Republic Avenue near the Turner Park Branch. The lights will be deactivated and the turning lanes will be closed for approximately one week.
Please use eastbound lanes only to plan your branch visit.
Thank you for your patience.
Publish Date:
Thursday, May 5, 2022 - 3:30pm
Canadiana Collection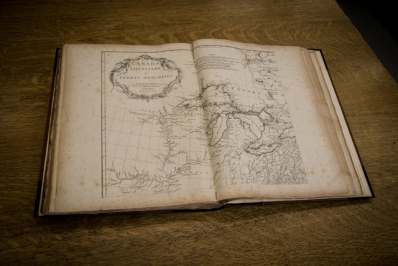 Since the formation of the Hamilton Public Library in 1889, one of its mandates has been to emphasize and make available material regarding Canadian history. From the earliest days, books, pamphlets, and other materials have been actively collected. With the 1905 donation of a sizable collection of early Canadian books by Emerson Bristol Biggar, a well known author and journalist, this collection was finally united, later being placed in the Canadiana Room in 1914. In 1974, this collection became part of the Special Collections Department. In February of 2008, the name of the department was changed to Local History & Archives.
The Canadiana collection is a collection of books about Canada, written by Canadians, published by Canadians, or having something to do with the history of Canada.
Within this collection are many fine examples of early printing, including de Charlevoix' Histoire de la Nouvelle France, published in 1744, and John Oldmixon's The British Empire in America, published in 1708. Major collecting strengths in this collection include sections of early exploration in Canada, featuring such well known books as Travels in Canada and the United States in 1816 and 1817 by Francis Hall, Five Years Residence in the Canadas by Edward Allen Talbot, published in 1824, A Theatrical Trip for a Wager! by Horton Rhys, published in 1861, Travels Through the Canadas by George Heriot, published in 1813, and Anbury's Travels Through the Interior Parts of America, published in 1791. Some of these books contain early descriptions of the Hamilton area and are excerpted in the Heritage Day Speech entitled Greetings from Hamilton.
Other collections include Arctic exploration, with an emphasis on the mid 19th century search for the remains of the Sir John Franklin expedition. This search and the reward offered are of particular interest to Hamiltonians because the ultimate winner of the reward was, for a time, a resident of Hamilton: John Rae. During his stay here, Rae was well known for wandering the streets in Eskimo garb, shouting to imagined Husky dogs.
Other books in the Canadiana Collection include a large amount of early Canadian fiction, township and county histories, military lists, year books, Parliamentary companions, biographies, autobiographies, and books of so many other types that it is not possible to list them here. These fascinating examples of Canadiana span from 1708 to the present.  Visit Local History & Archives today to explore this vast collection.