HPL Central Staff
On January 14 2021, HPL was notified of a Central employee who tested COVID-positive. While at work, the employee was wearing appropriate personal protective equipment and maintained physical distancing. A thorough cleaning and disinfection of Central's Basement, Floor 1 and Floor 2 was completed. HPL is working with Hamilton Public Health for contact tracing. We wish the employee a quick and full recovery.
Publish Date:
Thursday, January 14, 2021 - 12:45pm
Bookmobile Modifications
Bookmobile service is paused until Saturday January 16, 2021 as a precautionary measure, so we can deep-clean after a staff member at Central staff went home ill and another was notified as a close contact of a COVID-19 positive case. Bookmobile items on affected floors are being quarantined out of an abundance of caution.
Publish Date:
Wednesday, January 13, 2021 - 5:00pm
HPL.ca Pages
If you are having difficulty accessing the Kids, Teens, and Local History pages, please try clearing your browser's cache. We are working to resolve this issue. Thank you for your patience.
Publish Date:
Wednesday, January 13, 2021 - 4:45pm
Print on the Go
Print on the Go service is currently unable to print fillable government documents. We are working to resolve the issue. All other uploaded documents are printed by branch staff upon arrival.
Publish Date:
Monday, January 4, 2021 - 5:00pm
Canadiana Collection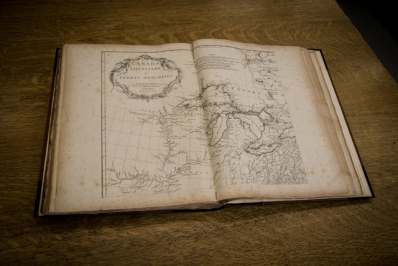 Since the formation of the Hamilton Public Library in 1889, one of its mandates has been to emphasize and make available material regarding Canadian history. From the earliest days, books, pamphlets, and other materials have been actively collected. With the 1905 donation of a sizable collection of early Canadian books by Emerson Bristol Biggar, a well known author and journalist, this collection was finally united, later being placed in the Canadiana Room in 1914. In 1974, this collection became part of the Special Collections Department. In February of 2008, the name of the department was changed to Local History & Archives.
The Canadiana collection is a collection of books about Canada, written by Canadians, published by Canadians, or having something to do with the history of Canada.
Within this collection are many fine examples of early printing, including de Charlevoix' Histoire de la Nouvelle France, published in 1744, and John Oldmixon's The British Empire in America, published in 1708. Major collecting strengths in this collection include sections of early exploration in Canada, featuring such well known books as Travels in Canada and the United States in 1816 and 1817 by Francis Hall, Five Years Residence in the Canadas by Edward Allen Talbot, published in 1824, A Theatrical Trip for a Wager! by Horton Rhys, published in 1861, Travels Through the Canadas by George Heriot, published in 1813, and Anbury's Travels Through the Interior Parts of America, published in 1791. Some of these books contain early descriptions of the Hamilton area and are excerpted in the Heritage Day Speech entitled Greetings from Hamilton.
Other collections include Arctic exploration, with an emphasis on the mid 19th century search for the remains of the Sir John Franklin expedition. This search and the reward offered are of particular interest to Hamiltonians because the ultimate winner of the reward was, for a time, a resident of Hamilton: John Rae. During his stay here, Rae was well known for wandering the streets in Eskimo garb, shouting to imagined Husky dogs.
Other books in the Canadiana Collection include a large amount of early Canadian fiction, township and county histories, military lists, year books, Parliamentary companions, biographies, autobiographies, and books of so many other types that it is not possible to list them here. These fascinating examples of Canadiana span from 1708 to the present.  Visit Local History & Archives today to explore this vast collection.