There is nothing to display at this time
Mount Hope Branch - Filming in the Area 
From February 6 - 10, filming will take place near the area of the branch. Please advise that loud sound effects may be heard throughout this time. A large volume of film equipment and vehicles will be present, however, Member parking will still be available.
Publish Date:
Thursday, February 2, 2023 - 9:45am
Red Hill Creek Expressway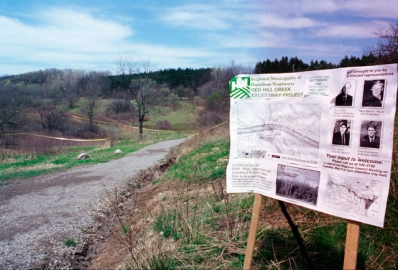 There are many sources for the history of the Red Hill Creek Expressway described here, spanning nearly a century.
SCRAPBOOKS
There are two scrapbooks with newspaper clippings (primarily from the Hamilton Spectator) concerning the planning and the controversy over the Red Hill Creek Expressway.
Clippings before August 1987 are in:
Roads in Hamilton Scrapbook
Vol. [1], [3], 4, 5, 6, 7
R917.1351 R531 CESH
Clippings after August 1987 are in:
Red Hill Creek Expressway Scrapbook
Vol. 1+
R388.40971352 RED CESH
PAMPHLETS
CF - Hamilton - Roads - Red Hill Creek Expressway
Miscellaneous pamphlets relating to the planning
ARC
HIVES
There is an Archives File of secondary documentation collected by the Save the Valley Committee
Save the Valley Committee Fonds
Finding Aid
R333.7209713 HOU CESH
BOOKS AND REPORTS (by date)
There is other material indexed in the Where-to-Look in Local History & Archives. This may include citations from other scrapbooks, periodicals, newspapers, etc.
To access these citations, please look in the Where-to-Look in Local HIstory & Archives under the heading:
Hamilton - Red Hill Creek Expressway