Central Library Notice
On April 13, 2021 HPL was notified that a person working at Central Library tested positive for COVID-19. They were last on site on April 8.
The person was wearing appropriate personal protective equipment and maintained physical distancing. Central has been cleaned thoroughly multiple times since April 8.
Please contact Public Health or your healthcare professional if you experience symptoms. We wish them a quick and full recovery. Please continue to monitor yourself for symptoms and stay home when sick.
HPL will issue updates as directed by Hamilton Public Health.
Publish Date:
Tuesday, April 13, 2021 - 12:15pm
HPL Catalogue New Look
A new look is coming to HPL's catalogue on Tuesday April 20. Explore and enjoy larger book cover images, simpler tools, easier navigation and other design improvements.
Publish Date:
Tuesday, April 13, 2021 - 12:00pm
Red Hill Creek Expressway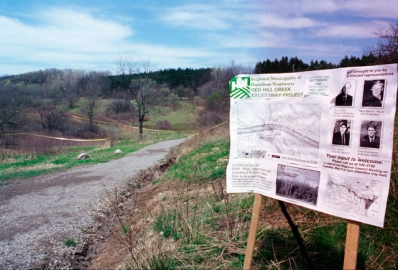 There are many sources for the history of the Red Hill Creek Expressway described here, spanning nearly a century.
SCRAPBOOKS
There are two scrapbooks with newspaper clippings (primarily from the Hamilton Spectator) concerning the planning and the controversy over the Red Hill Creek Expressway.
Clippings before August 1987 are in:
Roads in Hamilton Scrapbook
Vol. [1], [3], 4, 5, 6, 7
R917.1351 R531 CESH
Clippings after August 1987 are in:
Red Hill Creek Expressway Scrapbook
Vol. 1+
R388.40971352 RED CESH
PAMPHLETS
CF - Hamilton - Roads - Red Hill Creek Expressway
Miscellaneous pamphlets relating to the planning
ARC
HIVES
There is an Archives File of secondary documentation collected by the Save the Valley Committee
Save the Valley Committee Fonds
Finding Aid
R333.7209713 HOU CESH
BOOKS AND REPORTS (by date)
There is other material indexed in the Where-to-Look in Local History & Archives. This may include citations from other scrapbooks, periodicals, newspapers, etc.
To access these citations, please look in the Where-to-Look in Local HIstory & Archives under the heading:
Hamilton - Red Hill Creek Expressway