There is nothing to display at this time
Mount Hope Branch - Filming in the Area 
From February 6 - 10, filming will take place near the area of the branch. Please advise that loud sound effects may be heard throughout this time. A large volume of film equipment and vehicles will be present, however, Member parking will still be available.
Publish Date:
Thursday, February 2, 2023 - 9:45am
Lloyd Harold Bloom Collection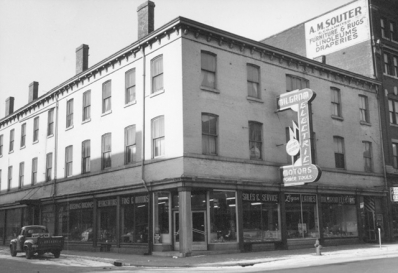 Lloyd Harold Bloom was born in Hamilton. He established Lloyd Bloom Photography in 1937. During the 1930's, he wrote columns for the Toronto Daily Star and for Saturday Night. During the Second World War he was an R.C.A.F. photographer. After the sale of his studio in 1980, Lloyd Bloom brought some of his negatives to Local History & Archives [then Special Collections] on a regular basis until his death in 1988. He also sent large quantities of negatives to the National Archives in Ottawa.
The negatives in this collection are of jobs Bloom was contracted for between 1954 and 1974. These include the construction of many municipal projects, such as City Hall, the Skyway Bridge, the Court House, as well as other projects, such as St. Joseph's Hospital, the Chedoke Expressway, the McMaster University Science Building, Henderson Hospital, etc.
In addition, he was interested in photographing fires. There is also a whole series of shots of the Evelyn Dick trial in Hamilton, in 1946-1947.
Finding Aid: R770.92 BLOOM CESH