Central Library Notice
On April 13, 2021 HPL was notified that a person working at Central Library tested positive for COVID-19. They were last on site on April 8.
The person was wearing appropriate personal protective equipment and maintained physical distancing. Central has been cleaned thoroughly multiple times since April 8.
Please contact Public Health or your healthcare professional if you experience symptoms. We wish them a quick and full recovery. Please continue to monitor yourself for symptoms and stay home when sick.
HPL will issue updates as directed by Hamilton Public Health.
Publish Date:
Tuesday, April 13, 2021 - 12:15pm
HPL Catalogue New Look
A new look is coming to HPL's catalogue on Tuesday April 20. Explore and enjoy larger book cover images, simpler tools, easier navigation and other design improvements.
Publish Date:
Tuesday, April 13, 2021 - 12:00pm
Lloyd Harold Bloom Collection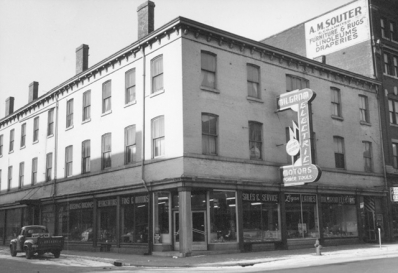 Lloyd Harold Bloom was born in Hamilton. He established Lloyd Bloom Photography in 1937. During the 1930's, he wrote columns for the Toronto Daily Star and for Saturday Night. During the Second World War he was an R.C.A.F. photographer. After the sale of his studio in 1980, Lloyd Bloom brought some of his negatives to Local History & Archives [then Special Collections] on a regular basis until his death in 1988. He also sent large quantities of negatives to the National Archives in Ottawa.
The negatives in this collection are of jobs Bloom was contracted for between 1954 and 1974. These include the construction of many municipal projects, such as City Hall, the Skyway Bridge, the Court House, as well as other projects, such as St. Joseph's Hospital, the Chedoke Expressway, the McMaster University Science Building, Henderson Hospital, etc.
In addition, he was interested in photographing fires. There is also a whole series of shots of the Evelyn Dick trial in Hamilton, in 1946-1947.
Finding Aid: R770.92 BLOOM CESH