There is nothing to display at this time
Central Library - Jackson Square Entrance Book Dropbox Out of Service
The book return dropbox at the Jackson Square entrance of the Central Library is currently out of service. The York Blvd dropbox is still available. We apologize for any inconvenience.
Publish Date:
Saturday, July 31, 2021 - 4:45pm
Bookmobile Stops - Saturday August 7
On Saturday August 7, the following Bookmobile stops are cancelled:
Stoney Creek Arena 11am-12pm 
Rockton 2:30-3pm
Millgrove 3:30-4pm
We look forward to seeing you next time.
Publish Date:
Thursday, July 29, 2021 - 10:15am
Newspapers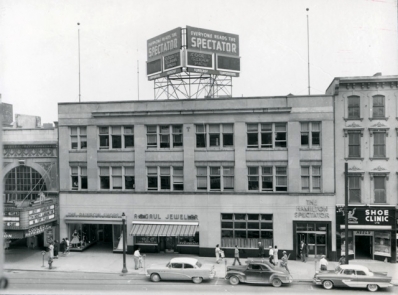 Hamilton Newspapers
Newspapers published in Hamilton, both current titles and those no longer published, are available on microfilm in the Local History & Archives Department. They include:
Hamilton Spectator, 1846 to present
Hamilton Times, 1859 to 1920
Hamilton Herald, 1889 to 1936
Hamilton News, 1947 to 1956
 
Community Newspapers
Local community newspapers, both current titles and those no longer published, are also available. They include:
Ancaster News
Dundas Star
Dundas Star News
East Hamilton Journal
Flamborough News
Flamborough Review
Glanbrook Advocate
Hamilton Journal
Hamilton Mountain News
Stoney Creek News
Waterdown Review
West Hamilton Journal
No appointment is necessary to view these newspapers. Staff are always available to help you with your search. Materials found on the microfilm readers can be saved to a USB drive. Printing is also available, for a fee.
Birth, Death, and Marriage Announcements 
Births, deaths, and marriages published in the Hamilton Spectator and some earlier newspapers have been transcribed, they include:
Gordon Allison Collection
Deaths, marriages and births published in the Hamilton Spectator from 1846 to 1899
Dundas Warder & County of Halton General Advertiser, 1847 to 1857
Early Marriage Notices East Flamborough Township, 1806 to 1859
Flamborough Marriage Records, 1794 to 1829
Flamborough Marriage Records, 1830 to 1834
Gore Gazette, March 2, 1827 to June 8, 1829
Hamilton Evening Times, February 7, 1859 to December 30, 1869
Hamilton Express & Free Press, 1836
Hamilton Express & Political & Commercial Journal, 1839
Hamilton Journal & Gore District Mercantile & Agricultural Intelligencer, 1839
Journal & Express, 1841 to 1853
Newspapers of the Western Gore, 1831 to 1859