There is nothing to display at this time
Central Library - York Blvd Dropbox Temporarily Closed
The York Boulevard drop box at Central Library is temporarily closed today, Monday June 27. Both the Jackson Square Lobby entrance and 1st Floor drop boxes remain open for library material returns. We apologize for the inconvenience.
Publish Date:
Monday, June 27, 2022 - 11:30am
Terryberry and Westdale Branches
Renovations at both the Terryberry and Westdale Branches are wrapping up. Both locations are expected to reopen in mid-July. Please stay tuned to our website and social media channels for updates. Thank you for your patience.
Publish Date:
Monday, June 27, 2022 - 10:30am
Geoffrey Baker Collection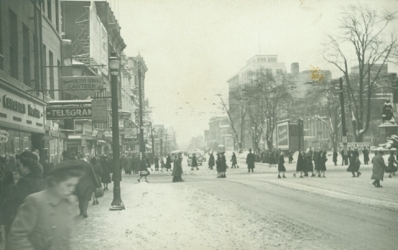 Geoffrey Baker was an airplane mechanic with the Royal Air Force who was stationed at Mount Hope Airport during World War II. This collection is a good overview of the activities of Baker during the war including shots of the airport as well as the Hamilton area. He took many pictures of Mount Hope, Hamilton, local rail traffic (Baker was an avid train spotter) and other locations he visited.
His collection consists of nearly 300 photographs, as well as a few booklets from Mount Hope and Greenfield Pioneer Village.
Details of the Contents:
Introduction
Correspondence - Folder 1
Photographs
Mount Hope - Folder 2
Hamilton - Folder 3
Toronto - Folder 4
Niagara Falls - Folder 5
Buffalo, N.Y. - Folder 6
Chautauqua, N.Y. - Folder 7
Detroit, Mich. - Folder 8
Greenfield Village, Mich. - Folder 9
New York, N.Y. - Folder 10
People - Folder 11
Trains - Folder 12
Publications - Folder 13