There is nothing to display at this time
Turner Park Library - JAWS Accessible Computer
The JAWS computer at the Turner Park Library is currently out of order. Estimated time of disruption is unknown.  Thank you for your patience.
Publish Date:
Tuesday, June 6, 2023 - 10:00am
Central Library - Drop Return Out of Order
The automated return slot is out of order from June 2-8 due to maintenance. Please return your library materials to the 1st Floor or Jackson Square Lobby dropboxes or the York Boulevard exterior drop. We apologize for any inconvenience.
Publish Date:
Wednesday, May 31, 2023 - 3:00pm
Turner Park Library JAWS Accessible Computer - Printing Unavailable
JAWS Accessible Computer at the Turner Park Branch is temporarily unable to print.
The estimated time of disruption is unknown.
We apologize for the inconvenience.
Publish Date:
Monday, May 29, 2023 - 1:45pm
Stoney Creek Branch - Delayed Opening
Due to Staff training, the Stoney Creek Branch will have a delayed opening of 10am on Friday, June 9. You may visit the Saltfleet Branch as the next nearest location for your library needs.
Publish Date:
Monday, May 29, 2023 - 9:00am
Keefer Pamphlets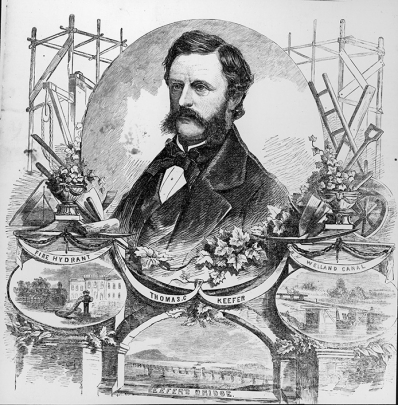 Thomas Coltrin Keefer (1821-1915) was a well known 19th century engineer who, among other things, designed the Waterworks for Hamilton in 1860. He donated a selection of mid-century pamphlets on Railways and Canals to the Hamilton Association which transferred them to the Hamilton Public Library. They have been microfilmed.
These pamphlets are arranged alphabetically.
A  |   B  |  C  |  D - E  |  F  |  G  |  H  |  I - K  |  L  |  M  |  N  |  O - P  |  R  |  S  |  T - V  |  W