Turner Park Library JAWS Accessible Computer - Printing Unavailable
JAWS Accessible Computer at the Turner Park Branch is temporarily unable to print.
The estimated time of disruption is unknown.
We apologize for the inconvenience.
Publish Date:
Monday, May 29, 2023 - 1:45pm
Stoney Creek Branch - Delayed Opening
Due to Staff training, the Stoney Creek Branch will have a delayed opening of 10am on Friday, June 9. You may visit the Saltfleet Branch as the next nearest location for your library needs.
Publish Date:
Monday, May 29, 2023 - 9:00am
History of City Hall
Alderman Malcolm Cline imported a Wall Street management consultant, L. Edgar Detwiler. He proposed Hamilton erect an equivalent to Edmonton's famed Miracle Mile on the site of the Westdale dump. This site would contain the new City Hall, supermarkets, a farmer's cooperative, retail stores and underground parking. "Lord knows what we might come up with," declared the enthusiastic Mr. Detwiler. He assured staff that it could be financed with self-liquidating bonds, with the city providing the land and the services and the property being tax-free for the life of the contract (58). Mr. Detwiler hoped to be paid $50,000 for the economic analysis and plan. The discussion began again with proposals for new sites such as the McLaren's building at Park and Merrick, the Wilkinson-Kompass building and the I.O.O.F. Temple. The leading sites by this time were still the Princes' Square and the H.C.C.I. locations. However, the decision was made to build beside the library on Main Street West.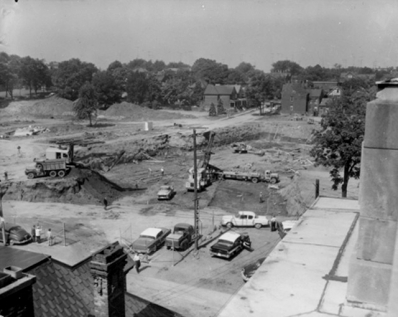 With the site finally decided, the next decision was the design. Everyone agreed that the old city hall had to go but seemed equally insistent that parts of it should be kept to be incorporated into the new hall. One suggestion was to incorporate the old city hall clock into the design (59). The strangest suggestion came from Mayor Jackson. He hoped to have the old council chamber moved completely into the new city hall. This led to a spirited exchange between His Worship and the city architect Mr. Roscoe. "All I want from you," said the mayor, "is whether it's feasible. Never mind whether it's wise". Mr. Roscoe said it was feasible, but he would not do it. "No good modern architect would do it," said Mr. Roscoe. "Then maybe we should get an architect who is not good and modern and who would do it," replied the Mayor (60). A massive fall of plaster in the council chamber a few weeks later seemed to bear out the architect's arguments. The proposal was abandoned, albeit reluctantly, by the mayor (61).