There is nothing to display at this time
Mount Hope Branch Public Washroom Out of Order
The Mount Hope Branch Public Washroom is out of order. We apologize for the inconvenience.
Publish Date:
Friday, May 13, 2022 - 2:15pm
Public Printing/Photocopying on the 3rd Floor of Central Not Working.
Please use the 1st floor or 2nd floor Printers
Publish Date:
Friday, May 13, 2022 - 11:30am
Rymal Road East Construction near Turner Park Branch
Starting Monday May 9, construction starts on Rymal Road East between Massena Drive and Republic Avenue near the Turner Park Branch. The lights will be deactivated and the turning lanes will be closed for approximately one week.
Please use eastbound lanes only to plan your branch visit.
Thank you for your patience.
Publish Date:
Thursday, May 5, 2022 - 3:30pm
History of Gore Park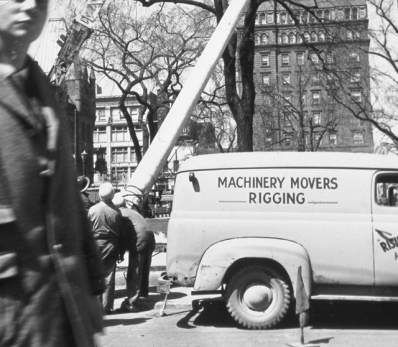 Other things were happening to the park during the 1950s besides the bird menace. The old fountain installed for the Royal visit in 1860 was finally condemned as unsafe and removed to make way for the three saucer shaped fountains donated by the Kinsmen (48). The flagpole, having been condemned as unsafe, was replaced by a steel one donated to the city by Dofasco.
The 1960s got off to a roaring start with the dedication of the new $20,000 fountains. Prime Minister Diefenbaker was scheduled to come to the ceremony but a blizzard kept him grounded in Ottawa. The Honourable Ellen Fairclough stood in his place (49). During this time period it was decided that Gore Park needed a master plan for a complete change. The Parks Board decided to set up a permanent committee to look into the question. Five committees, four reports and five years after talks commenced in 1962 they were no closer to any acceptable designs for renovation than they had been at the beginning.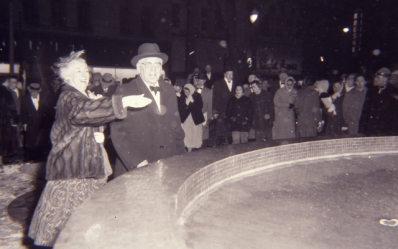 The Parks Board presented their latest proposal in April 1968. It called for replacing the Kinsmen's fountain with a 150 foot long reflecting pool with three spray fountains, planting more flowers, closing Hughson Street through the park and putting a steel picket fence around the park. The final version of that report, presented 12 months later, left Hughson Street open but retained all the other suggestions. The only problem now facing the Board was the fact that there was absolutely no money to do anything proposed. They hoped the money would be available in two years time (50).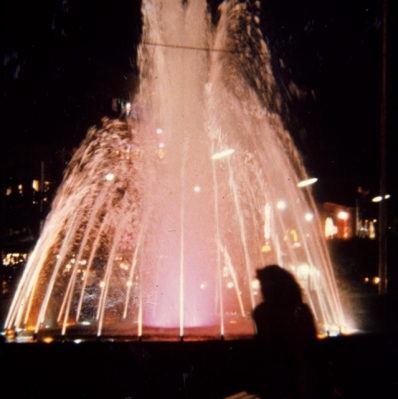 The renovations were finally budgeted for and slated to start in the summer of 1970. The central focus of the new park would be the new fountain. It was to be an oval with a twenty-five foot spray in the middle and about 25 other smaller jets around it. All benches were to be removed and seats without backs placed at intervals. $135,000 was budgeted for the renovations (51). The fountain was officially turned on October 23, 1970 and worked beautifully. The coloured lights playing on it made quite an impressive sight.